Disclosure: This blog does not constitute legal advice, and is also not medical advice. U.S. federal and state cannabis laws are changing quickly; this article was published in June 2022 and speaks only as of the time it was written. I only recommend products I would use myself and all opinions expressed here are my own. This post does contain affiliate links that at no additional cost to you, when you buy I earn a small commission. Read full privacy policy here. 
Women in their 40s and 50s (like us at SS) are a fast-growing segment of U.S. legal cannabis users, closely followed by older Americans. In other words, sandwichers are trying the new array of products on ourselves and the elders we care for, often for stubborn problems like pain, anxiety, and sleep.
Like us, marijuana has grown up. It's now often called cannabis, after the name of the plant. And a new array of products include helpful elements of the cannabis plant, isolated into tinctures, oils, and gummies.
Let's break down what is legally available on the market, where to find quality products, and what to expect.
In Part II of our Aging in Place with Grace series, we are tackling the topic of Tech For Elders. As our loved one's cognitive abilities decline their ability to use the technology they once did can decline as well.
Read More »
Visit us again soon for more information and resources.
Part I: CBD and Related Products
CBD is derived from cannabis, but does not have any of the psychoactive effects for which marijuana is well-known. In other words, it won't get you high. It's been on American shelves for years, and it is legal anywhere in the US.
Effects: A recent Forbes Health survey found that 60% of American adults have tried CBD. That study found people primarily use CBD to reduce stress, relieve pain, improve sleep quality and alleviate anxiety. You can consume it in precisely-dosed gummies, as an oil taken under the tongue, or in lotions to rub into the skin (especially helpful for arthritis).
Where to Buy: Depending on the state, you can find products containing CBD in specifically-CBD shops, vape/tobacco stores, and regular grocery stores and pharmacies. You can also order it through the mail from U.S. retailers without legal concerns.
Pro Tip: CBD products vary greatly in the amount of actual CBD and its quality. (Remember, they aren't regulated by the FDA. Any brand can slap it on there, especially since it's trendy).
Look for quality brands and products labeled Full-Spectrum CBD, which preserves more of the beneficial compounds from the plant. 
Two national brands you can order by mail, which I use myself and often recommend, are House of Wise and Five.
House of Wise creates gummies made of full-spectrum CBD, rigorously tested, and combined with other plant compounds to tailor to 4 specific issues: Sleep Gummies, Sex Gummies, Stress Gummies, and Strength Gummies. I used the Sleep Gummies to get back on track after jet lag and it worked like a charm. Use the code "SandwichSmarter15" at checkout to get 15% off your total order!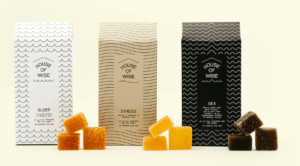 People have been making durable rope, sails, and cloth out of the cannabis plant for thousands of years. The 2018 Farm Bill clarified that hemp, defined by law as having less than 0.3% THC, is legal.
So, it turns out they can also chemically isolate THC (the cannabinoid that does have psychoactive effects) from plants that otherwise qualify as hemp. Go chemists, I guess.
Proponents argue that a little bit of THC helps the action of CBD (the "entourage effect") – after all, they are both components of the cannabis plant as a whole.
So you will see products for sale that say things like, "CBD + Hemp-Derived THC", which are generally legal throughout the U.S. at this point. These might be worth trying as a stronger product than a full-spectrum CBD for pain, anxiety, and stress. With gummies and tinctures, it is key to check the recommended dosing.  Also, remember they take 45 mins to an hour to kick in.  I suggest starting with half of the recommended dose at first. Again, choosing quality brands is important as these are unregulated.
I recommend the brand Five, which makes an assortment of full spectrum CBD + (hemp-derived) THC products, including gummies, capsules, chocolate, creams, and tinctures. And, Sandwich Smarter readers can get 35% off with this link!
Delta-8 is a trendy new thing in this run-down. It's yet another cannabinoid (technically THC is actually delta-9-tetrahydrocannabinol, so delta-8 is next door, chemistry-wise.)
Delta-8 has been in sort of in a legal loophole; neither illegal THC nor mild-mannered CBD. Some people have called it "marijuana-light." In many states where cannabis is not legal for recreational use, Delta-8 does a good business as a mild intoxicant. You could also consider it as a slightly stronger option for pain than the options discussed above.
However, 18 states have restricted or banned Delta-8 and others are working to regulate Delta-8 more strictly.
Where to Buy: Tobacco shops and CBD stores. Again, look for quality brands (and don't buy in a convenience store.) In my home state of Minnesota, I recommend Love is an Ingredient (in Columbia Heights and local delivery) (20% off for Sandwich Smarter readers with code SandwichSmarter20)!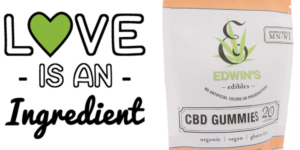 Part II of this series will give you the low-down on medical and recreational cannabis in the U.S., from a caregiver perspective. To make sure to get Part II when it comes out, subscribe to Sandwich Smarter here.
Update for Minnesota Readers: As of July 1, 2022, Minnesota now allows the sale of edibles that contain up to 5 mg per serving of hemp-derived THC (both Delta-8 and Delta-9). (FYI, 10 mg is often the recommended recreational dose – so this has been compared to 3.2 beer!) This allows Minnesota CBD and other shops to sell these products to the public and for the public to be reassured that they have been carefully tested for purity, and includes other packaging restrictions to keep them out of the hands of children. Minnesota's new law also allows the addition of that amount of hemp-derived THC in food and beverage products, so expect an explosion of infused seltzers and cookies.
Edibles have been flying off the shelves at Minnesota CBD stores. You can skip the line by ordering from Five with our 35% Sandwich Smarter discount at this link or House of Wise and use the discount code SandwichSmarter15 at checkout to get 15% off your total order. Additionally, you can check out Minnesota stores like Love is an Ingredient (in Columbia Heights and local delivery) (20% off for Sandwich Smarter readers with code SandwichSmarter20).